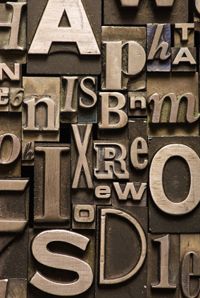 We take great pride in making our clients feel confident about their jobs during the production process. To help you gain a better understanding of what's happening to your project, we've compiled a glossary of terms that we commonly use in our industry.
A
B
C
D
E
F
G
H
L
M
N
O
P
R
S
T
V
AC

Accordion Fold

A type of paper folding in which each fold runs in the opposite direction to the previous fold creating a pleated or accordion effect.

Author's Alterations (AA's)

Changes made after composition stage where customer is responsible for additional charges.

Banker's Flap Envelope

Also called wallet flap; the wallet flap has more rounded flap edges.

Binder's Board

A heavy paperboard with a cloth covering that is used for hardback binding of books.

Binding

Various methods of securing folded sections together and or fastening them to a cover, to form single copies of a book.

Blanket

On offset presses a fabric-reinforced sheet of rubber to transfer the impression from the plate onto the paper.

Bleed

Extra ink area that crosses trim line, used to allow for variations that occur when the reproduction is trimmed or die-cut.

Blind Emboss

A design or bas relief impression that is made without using inks or metal foils.

Body

The main shank or portion of the letter character other than the ascenders and descenders. Also: A term used to define the thickness or viscosity of printer's ink.

Bond

A grade of durable writing, printing and typing paper that has a standard size of 17x22 inches.

Book

A general classification to describe papers used to print books; its standard size is 25x38 inches. A printed work which contains more than 64 pages.

Bounce 1

A registration problem, usually on copiers, where the image appears to bounce back and forth. A bounce usually occurs in one direction depending on how the paper is passing through the machine. This is usually accented by card stock (especially if it's over the machine's spec). When a customer refuses a job for whatever reason.

Brochure

A pamphlet that is bound in booklet form.

Cast Coated

A paper that is coated and then pressure dried using a polished roller which imparts an enamel like hard gloss finish.

Coated (Paper)

Paper coated with clay, white pigments and a binder. Better for printing because there is less picking.

Collate

To gather sheets or signatures together in their correct order. (see Gather)

Color Bars

This term refers to a color test strip, which is printed on the waste portion of a press sheet. It is a standardized (GATF-Graphic Arts Technical Foundation) process which allows a pressman to determine the quality of the printed material relative to ink density, registration, and dot gain. It also includes the Star Target, which is a similar system designed to detect inking problems.

Color Separating

The processes of separating the primary color components for printing.

Cover

A term describing a general type of papers used for the covers of books, pamphlets etc.

Crop Mark

Markings at edges of original or on guide sheet to indicate the area desired in reproduction with negative or plate trimmed (cropped) at the markings.

Cutter

Machine for accurately cutting stacks of paper to desired dimensions...can also be used to crease. Also trims out final bound books' top size (soft cover).

Deckle Edge

The rough or feathered edge of paper when left untrimmed.

Die

Design, letters or shapes, cut into metal (mostly brass) for stamping book covers or embossing. An engraved stamp used for impressing an image or design.

Die Cutting

A method of using sharp steel ruled stamps or rollers to cut various shapes i.e. labels, boxes, image shapes, either post press or in line. The process of cutting paper in a shape or design by the use of a wooden die or block in which are positioned steel rules in the shape of the desired pattern.

Dull Finish

Any matte finished paper.

Duotone

Color reproduction from monochrome original. Keyplate usually printed in dark color for detail, second plate printed in light flat tints. A two-color halftone reproduction generated from a one-color photo.

Duplex Paper

Paper which has a different color or finish on each side.

Embossed

A method of paper finishing whereby a pattern is pressed into the paper when it is dry.

Engraving

A printing process whereby images such as copy or art are etched onto a plate. When ink is applied, these etched areas act as small wells to hold the ink; paper is forced against this die and the ink is lifted out of the etched areas creating raised images on the paper.

Felt Finish

The smoother side of paper, usually a soft weave pattern used for book papers.

Fold Marks

Markings at top edges that show where folds should occur.

Ganging

The bundling of two or more different printing projects on the same sheet of paper.

Grain

Direction of fibers in a sheet of paper governing paper properties such as increased size changes with relative humidity, across the grain, and better folding properties along the grain.

Hairline register

Printing registration that lies within the range of plus or minus one half row of dots. It is the thinnest of the standard printers' rules.

Hickies

Imperfections in presswork due to dirt on press, trapping errors, etc.

Laid Finish

A parallel lined paper that has a handmade look.

Linen

A paper that emulates the look and texture of linen cloth.

Make Rready

Process of adjusting final plate on the press to fine tune or modify plate surface.

Matte Finish

A coated paper finish that goes through minimal calendaring. Reference, calendaring.

Midtone Dot

Commonly taken as the area between highlight and shadow area of a subject's face in halftone image.

Natural

A term to describe papers that have a color similar to that of wood; also called cream, off-white or ivory.

Opaque

A quality of paper that allows relatively little light to pass through.

Overprinting

Any printing that is done on an area that has already been printed.

Parent Sheet

A sheet that is larger than the cut stock of the same paper.

Perfect Binding

Binding process where backs of sections are cut off, roughened and glued together, and rung in a cover.

Perforating

Punching small holes or slits in a sheet of paper or cardboard to facilitate tearing along a desired line.

Plate

Reproduction of type or cuts in metal, plastic, rubber, or other material, to form a plate bearing a relief, planographic or intaglio printing surface.

Process Inks

Printing inks, usually in sets of four colors. The most frequent combination is yellow, magenta, cyan, and black, which are printed, one over another in that order, to obtain a colored print with the desired hues, whites, blacks, and grays.

Proof

Impression from composed type or blocks, taken for checking and correction, from a lithographic plate to check accuracy of layout, type matter, tone and color reproduction.

Ream

Right Angle Fold

A term that denotes folds that are 90 degrees to each other.

Saddle Stitching

Stitching where the wire staples pass through the spine from the outside and are clinched in the center. Only used with folded sections, either single sections or two or more sections inset to form a single section.

Satin Finish

A smooth delicately embossed finished paper with sheen.

Score

Impressions or cuts in flat material to facilitate bending or tearing.

Self Cover

A cover made out of the same paper stock as the internal sheets.

Spiral Bind

A binding whereby a wire or plastic is spiraled through holes punched along the binding side.

Spot Color

Any color that is not Process colors. Also referred to as Pantone colors.

Stet

A proofreader's symbol that is usually written in the copy margin, that indicates that the copy, which was marked for correction, should be left as it was.

Tensile Strength

A paper's ability to withstand pressure.

Varnish

A clear shiny ink used to add gloss to printed pieces. The primary component of the ink vehicle. Reference, vehicle.